dBpowerAMP Music converter (dmC) è una piccola utility con grandi funzionalità sul trattamento e la conversione dei file audio nei più diffusi formati in circolazione.
Caratteristiche:
Convert audio files with elegant simplicity. mp3, mp4, m4a (iTunes / iPod), Windows Media Audio (WMA), Ogg Vorbis, AAC, Monkeys Audio, FLAC, Apple Lossless (ALAC) to name a few!
Multi CPU Encoding Support,
Rip digitally record audio CDs (with CD Ripper),
Batch Convert large numbers of files with 1 click,
Windows Integration popup info tips, audio properties, columns, edit ID-Tags,
DSP Effects such as Volume Normalize, or Graphic EQ [Power Pack Option],
Command Line Encoding: invoke the encoder from the command line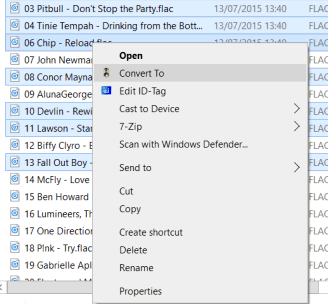 Changelog:
mp3 Lame updated to 3.98.3
FLAC: if ´AlbumArtist´ and ´Album Artist´ contain the same item duplicated, it only appears once
id3v2 tags split Soloist tag on ´/´ not r
Resample can now convert 192Khz to 44.1KHz and 44.1 to 192Khz
CD Ripper - eject and media detection works with BluRay drives under Windows 7
Bug Fix: Single Track CDs detected again in CD Ripper
Bug Fix: CD Ripper could change CD drive assignment when a device removal or addition took place
Bug Fix: Batch Converter if clicked ´Convert´ on the list page would not exclude unchecked files from conversion
Commenta la News sul Forum
Voto:
Categoria:
Multimedia e Burning
Licenza:
Freeware/shareware
Dimensioni:
5.39 MB
OS:
winall
La Community di SWZone.it
La community con le risposte che cerchi ! Partecipa é gratis !
Iscriviti al Forum
Newsletter
Vuoi ricevere tutti gli aggiornamenti di SWZone direttamente via mail ?
Iscriviti alla Newsletter
NOTIZIE CORRELATE