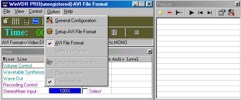 WinVDR è un software col quale si possono creare file in formato MPEG4 AVI/WMV direttamente da una scheda di acquisizione video. WinVDR include inoltre un mixer con il quale si può monitorare il livello audio di ingresso.
Queste nello specifico le funzioni del programma:


Real-Time Video Capture Recorder,Can Directly Record to MPEG4 AVI/WMV Video Format .

Use cublic filter for every frame of video stream,thus the video quality is highly improved.

Use MMX/SSE assemble code in kernel arithmetic,thus capture speed is highly improved.By testing,WinVDR can real-time capture MPEG4 A/Vstream in 384*288*25 FPS(PAL) in Pentium 550 CPU.

Use MPEG4 scheme,thus one CD can hold 180 minutes video clip with VCD quality.

WinVDR bypass AVI I/O API provide by Microsoft,thus capturing speed get more improved.

WinVDR use 'dynamic A/V synchronization' technology to completely solve the problem of A/V asynchronism. Long-time video capture cannot breoken the A/V synchronization.

You can adjust Audio Time Shifting relative to Video Time.

When capturing,automaticly prevent sceensaver,power manager from running.

Automatically produce MPEG4 AVI/WMV file name according to your system time.

Simple and Useful Playlist & Mixer Included.

Long-Time Recorder(limited by your harddisk)

Pause Function.

Audio Level Monitor
Pagina di riferimento
ownload
1700 KB
Compatibile con Windows 95/98/Me/NT/XP/2000
Licenza Shareware
4 - Commento/i sul Forum
Voto:
Categoria:
Windows
La Community di SWZone.it
La community con le risposte che cerchi ! Partecipa é gratis !
Iscriviti al Forum
Newsletter
Vuoi ricevere tutti gli aggiornamenti di SWZone direttamente via mail ?
Iscriviti alla Newsletter
NOTIZIE CORRELATE