Rilasciata una nuova versione di questo ottimo software per la gestione dei Tags Mp3,.mpc,.ape, .wma, .ogg........... Certamente il programma leader della categoria.
Novità dalla versione 3.2 alla 3.3
added support for cover art in APE tags
added support for cover art in flac files (PICTURE METADATA BLOCK)
added support for cover art in ogg and speex files (base64 encoded)
added wav files support (MUSICMATCH Jukebox style - ID3v2 tag added to ´id3 ´ wav chunk)
added butch functions to work with folder.jpg files
added support for "Remixed by" tag field
added "DJ style tag editor" option - show "Label" and "Remixed by" fields in main tag editor tab)
now Tag&Rename write mp3 and wma rating and mood tag frames compatible with Windows Media Player
while renaming music files Tag&Rename now also rename .cdg files with similar to music files names
added "Compilation" column into file list
added "Composer" field in filters
added support for .m3u8 play lists - Unicode UTF8 encoded
added many auto update ID3v1 tag settings in program options -> "Advanced"
it is possible to select now what information need to be saved from freedb
added Tag&Rename status bar show size of selected files in program files list
improved ID3v2.4 tags support (can correctly read any kind of 2.4 tags now)
added full read support for ID3v2.4 UTF8 encoded tags
Album Artist field in mp4 tag now compatible with iTunes 7
fixed incompatibility problem with NVIDIA nView
fixed bug in APEv2 tag wring (incorrect tag size in tag header)
Manuale in formato pdf del programma in lingua inglese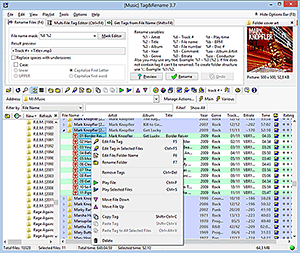 Commenta la News sul Forum
Voto:
Categoria:
Multimedia e Burning
Licenza:
Shareware
Dimensioni:
2.7 Mb
OS:
Winall
La Community di SWZone.it
La community con le risposte che cerchi ! Partecipa é gratis !
Iscriviti al Forum
Newsletter
Vuoi ricevere tutti gli aggiornamenti di SWZone direttamente via mail ?
Iscriviti alla Newsletter
NOTIZIE CORRELATE