SPAM Punisher consente di reperire velocemente l'indirizzo ip dello spammer di turno in modo da sporgere denuncia presso l'autorità competente.
What's new
New powerful search engine for IP-addresses used
Automatic spam processing
Added Internet connection configuration: proxy connection - now you can use Spam Punisher on local networks, with firewalls, ADSL/ISDN and other non-standard connections
You can create and use custom complaint templates
Bug "Cannot open file" under Windows XP fixed
Send complains bug fixed
ALL MAJOR BUGS ARE FIXED IN VERSION 2.0
Fully compatible with MS Outlook, Outlook Express, The Bat!, Netscape Communicator, Hotmail (Web Service), Eudora, Pegasus, Forte Agent 1.8+ and other popular e-mail software and web services
60-day trial Win All
Homepage
ownload 469kb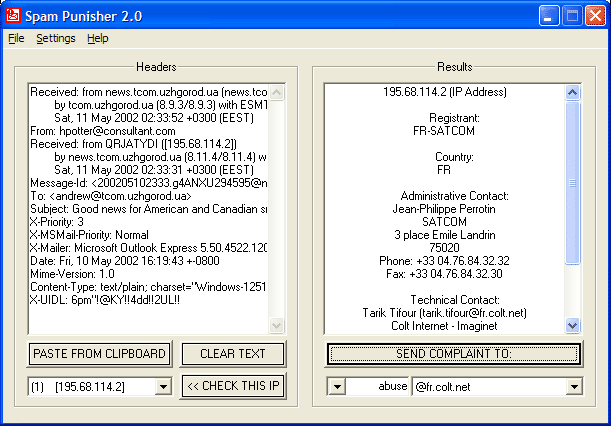 7 - Commento/i sul Forum
Voto:
Categoria:
Sicurezza
La Community di SWZone.it
La community con le risposte che cerchi ! Partecipa é gratis !
Iscriviti al Forum
Newsletter
Vuoi ricevere tutti gli aggiornamenti di SWZone direttamente via mail ?
Iscriviti alla Newsletter
NOTIZIE CORRELATE