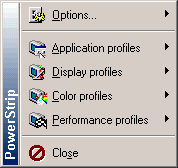 Nuova release di questa otiima utility per il tweaking e l'overclock della quasi totalitā delle schede video presenti sul mercato.
Novitā:
- Added clock power management
- Added automatic recall of color adjustments
- Allows more flexible manual profile arrangement
- Validated support for the GF3 Titanium series
- Fixed up #9 T2R4 LUTDAC support for XP
- Rerouted SiS630/730 to SiS305/315
- Fixed Trident Blade and XP clock controls
- Added per-profile FSAA and anisotropic filtering options
- Added safety confirmation prompts
- Auto-enables interlaced gaming on the Radeon
- Fixed up switches for latest Kyro drivers
- Revised custom resolutions for Radeon
- Allows custom resolutions as low as 160x120
- Sync'd with latest Matrox Win9x drivers and MTSU
- Revised global force refresh rate option to include full timing
- Exposes all color adjustments to optional hotkeys
Home PS
ownload PS 3.10
Commenta la News sul Forum
Voto:
Categoria:
Hardware
La Community di SWZone.it
La community con le risposte che cerchi ! Partecipa é gratis !
Iscriviti al Forum
Newsletter
Vuoi ricevere tutti gli aggiornamenti di SWZone direttamente via mail ?
Iscriviti alla Newsletter
NOTIZIE CORRELATE