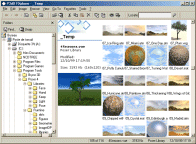 Ecco a voi un altro visualizzatore/browser di immagini freeware e pure in italiano, installabile su Win9x/NT/2K/ME/XP:
+Folder thumbnail preview with several sizes
+38 Images files formats preview and full view
+Poser files images preview
+Vue d'Esprit files preview
+Poser files images update
+Zoom in/out pictures
+Zip through browsing
+Batch rename function
+Link to native files applications
+Slide show mode
+Drag & Drop and Clipboard support
+Printing support
+Active Windows look and feel
+Windows file association for Poser and Vue files
+Custom Windows like Send To menu
+Custom Windows like Favorites menu
+Many quick navigation tips
+Help file
Home
FAQ
P3dOExplorer15 full (1.6Mb)
Aggiornamento italiano
2 - Commento/i sul Forum
Voto:
Categoria:
Windows
La Community di SWZone.it
La community con le risposte che cerchi ! Partecipa é gratis !
Iscriviti al Forum
Newsletter
Vuoi ricevere tutti gli aggiornamenti di SWZone direttamente via mail ?
Iscriviti alla Newsletter
NOTIZIE CORRELATE