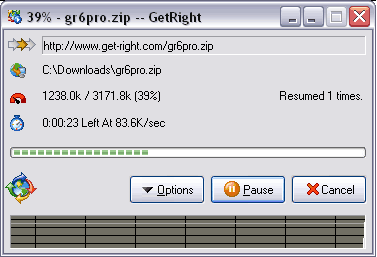 Questo famoso download manager credo che non abbia bisogno di particolari presentazioni, quindi mi limito a segnalarvi direttamente le new features della release in oggetto.
- Weird one, crashed when first starting a download. Seemed to mostly happen with Windows XP Pro, but did happen with other versions of Windows too
- History sometimes didn't include all items
- Browser, for HTTP, wasn't processing /../ things for the display right, just caused extra "/.." items in the left tree
- Fix so if in automatic mode and prompting for password for a site times out, it doesn't turn off automatic mode
- Fix so parses out user: pass@ from URLs (
http://user: pass@[url]www.server.com/...
) when changing the URL by hand
- Added menu item so you can Hide the download window if it is minimized to a tray icon
- Fixed handling directories when trying to save to a network share
- Will just do a very simple list (one URL per line), but added so GetRight Browser can export a list of selected URLs
- Fix a bug that was causing mirror searching to not work sometimes
- By popular request, bumped up the Segmenting limits more
Pagina di riferimento
ownload
2153 KB
ownload upgrade per GetRight 4.5, 4.5a, o 4.5b
N.B. Questa patch è valida solo per le release 4.5 or 4.5a or 4.5b. Per qualsiasi altra Beta o versione test è necessario scaricare la versione integrale
4.5c
.
Compatibile con Windows 95/98/Me/NT/XP/2000
Licenza Shareware
1 - Commento/i sul Forum
Voto:
Categoria:
Windows
La Community di SWZone.it
La community con le risposte che cerchi ! Partecipa é gratis !
Iscriviti al Forum
Newsletter
Vuoi ricevere tutti gli aggiornamenti di SWZone direttamente via mail ?
Iscriviti alla Newsletter
NOTIZIE CORRELATE