Nuova versione per questo cattura schermo che può operare su tutto il desktop oppure su una parte di esso e ridimensionare l´immagine creata, al download la versione stand alone.
Caratteristiche
A small handy Capture Panel that provides quick access to its capture tools and output options
Global hotkeys to activate screen capturing instantly
Capture windows, objects, menus, full screen, rectangular/freehand regions and scrolling windows/web pages
Capture multiple windows and objects including multi-level menus
Record screen activities including onscreen changes, speech from microphone, mouse movements and clicks into highly compressed video files (Windows Media Video format). A built-in video editor allows you to draw annotations, apply zoom effects and cut unwanted sections
Options to specify output destination (internal editor, clipboard, file, printer ...)
Draw annotation objects such as texts, arrowed lines, highlights, watermarks, rectangles and circles
Apply effects such as drop-shadow, frame, torn-edge and fade-edge
Add image caption
Resize, crop, rotate, sharpen, brighten, adjust colors ...
Undo/Redo
Support external editors
Save in BMP, GIF, JPEG, PCX, PNG, TGA, TIFF and PDF formats
Acquire images from scanner
Convert images to multi-page PDF file
Send captured images by email
Send captured images to Word and PowerPoint documents
Send captured images to a Web (FTP) server
Screen Color Picker
Screen Magnifier
Screen Ruler
Support multiple monitors
Support touch interface (tap, swipe, pinch)
Run when Windows starts (optional)
Minimize to System Tray area
Small footprint in memory
And many more ...


Changelog:
Version 7.5 (June 03, 2013)
Enhanced the Draw tool

Now you can draw both straight and curved lines using the Line tool
Added 10 styles to the Line and Pencil tools
Added Number Stamp
Added Eraser
Added L-Line
Added "Align" (top, left, right, bottom, width, height and size) to the right click menu on multiple objects
Enhanced "Select Canvas". Now you can crop, blur, copy, cut, paste and delete a selected area. You can even fill it with a screen color
Now you can select multiple objects and change their attributes as a group

Added "Print" tab to the Settings. Now you have an option to print directly to the default printer without showing the Print dialog
Added Drop Shadow option to the Reflection tool under Effects menu
Enhanced the video editor of the built-in screen video recorder
Other minor improvements and bug fixes
Version 7.4 (March 14, 2013)
Supports touch interface
Added 2 new options in the Settings:

"Auto-hide capture toolbar when it reaches the top of the screen"
"Bigger buttons on capture toolbar"

Improved the Print dialog
Improved the "Fixed Region" capture tool: now you can press Shift + arrow keys to adjust the width and height of the fixed region
Added a hotkey for "Import from Clipboard" in the Hotkeys tab of the Settings
Now it is possible to use the screen capture and screen recorder at the same time if you disable the new option "Hide Toolbar when using Screen Recorder" in the Settings
Now you can preview the fonts in the font list of the Draw tool
Added a "Blur" button in the image editor
Added a "Save" button to the Email window when "To Email" is selected as the Output destination
Added an option to adjust the volume of mouse click sound for the screen recorder
Supports output to Excel
Other minor improvements and bug fixes
Version 7.3 (September 17, 2012)
Improved the screen recorder:

Added an option (for Vista, Windows 7 and 8) to record audio from both microphone and speakers at the same time
Added an option to repeat the last screen recording


Improved the video editor. Now you can:

Remove unwanted sections from a screen video
Save a video frame to a file or copy it to Clipboard
Drag and drop a video file onto the screen recorder´s panel to open it in the video editor


Improved the Auto Caption tool

Improved compatibility with Windows 8 RTM

Other minor improvements and bug fixes
Versione portatile
La versione è Shareware, ma vale i soldi spesi.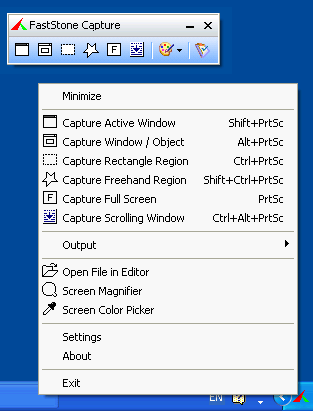 Commenta la News sul Forum
Voto:
Categoria:
Windows
Licenza:
Shareware
Dimensioni:
1,73 Mb
OS:
Win All
La Community di SWZone.it
La community con le risposte che cerchi ! Partecipa é gratis !
Iscriviti al Forum
Newsletter
Vuoi ricevere tutti gli aggiornamenti di SWZone direttamente via mail ?
Iscriviti alla Newsletter
NOTIZIE CORRELATE