Aggiornamento alla versione 5.3 per questo cattura schermo che può operare su tutto il desktop oppure su una parte di esso e ridimensionare l´immagine creata, al download la versione stand alone.
Caratteristiche
A small floating Capture Panel that can be dragged anywhere or minimized to the Windows tray area
Resource friendly - uses a very small amount of memory, especially when minimized to the Windows tray area
Global hotkeys to activate the program´s capture capabilities anytime, anywhere
Efficient tools to capture windows, objects, full screen, rectangle/freehand-selected regions and scrolling areas
Capture web pages in Microsoft Internet Explorer, FireFox and Opera
Option to specify destination (internal editor, clipboard or file) where the captured image will be sent
Screen color picker
Text/Arrowed line/Highlight/Watermark annotation
Drop-shadow, torn-edge effects
Add comments
Resize, crop, brightness, contrast, gamma, sharpen, blur, gray, negative
Zoom in/out
Undo/Redo
Save as BMP, JPEG, JPEG2000, PNG, GIF, TIFF, TGA, PDF
Send captured images in e-mails
Screen Magnifier
Divide it into multi-pages when printing long document
Multi-monitor support
Option to run when Windows starts
And many more ...
Cambiamenti Versione 5.3
Compatible with Windows Vista
Improved quality of 256 color PNG/GIF output
Added Reset to Primary Screen (only available in Multi-monitor system) to the tray icon´s popup menu
Versione portabile [1.32 Mb]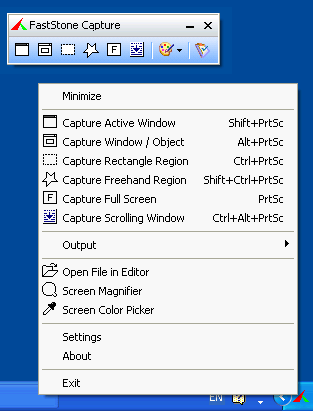 Commenta la News sul Forum
Voto:
Categoria:
Windows
Licenza:
Freeware per uso personale
Dimensioni:
1.38 MB
OS:
Sistemi Windows
La Community di SWZone.it
La community con le risposte che cerchi ! Partecipa é gratis !
Iscriviti al Forum
Newsletter
Vuoi ricevere tutti gli aggiornamenti di SWZone direttamente via mail ?
Iscriviti alla Newsletter
NOTIZIE CORRELATE