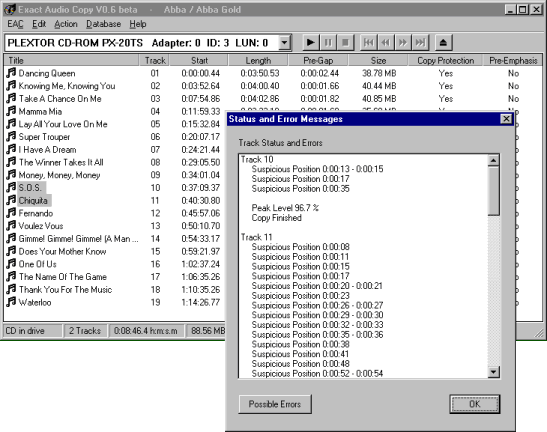 In occasione del rifacimento della veste grafica del sito di
Andre Wiethoff
, è stato rilasciato l'aggiornamento alla versione
0.9 beta 4
dell'ormai famosissimo EAC, sicuramente il miglior software per l'estrazione digitale delle tracce audio dai cd musicali.
Corretti in questa release alcuni "minor bugs".
E per chi non conoscesse ancora
EAC
, ecco in dettaglio l'elenco delle molteplici funzioni di questo software gratuito.
Features:

Usage of the Windows 95 and Windows NT ASPI Interface, so both SCSI and ATAPI CD-ROM drives are supported

Hidden sector synchronization (jitter correction)

Secure, fast and burst extraction method selectable. Fast extraction should get the same speed as other grabbers, but is probably not exact anymore. Burst mode just grabs the audio data without any synchronization.

Read error and complete lost of sync detection and correction in secure modes, as far as possible

Output of time positions of all non exact corrections and listen to these positions

Copy of ranges of music data, not only tracks

Automatic Speed reduction on errors and fallback afterwards

Normalization of extracted audio

Usage of the Windows Audio Compression Manager (ACM Codecs) for direct compression e.g. to MP3 waves

Support for the BladeEnc DLL that is usable like an ACM Codec for online MP3 compression

Support of external MP3, VQF, RA and AAC encoders for automatic compression after extraction

Batch compression and decompression of/to WAV files

Compression offset support for exact compression/decompression

Detection of pre-track gaps

Detection of silence in pre-track gaps

Automatic creation of CUE sheets for CDRWin, including all gaps, indicies, track attributes, UPC and ISRC

CD player functionality and prelistening to selected ranges

Automatic detection of drive features, whether a drive has an accurate stream and/or does caching

Sample Offsets for drives with no accurate streams, including the option of filling up missing samples with silence

Option for synchronizing tracks for non-accurate stream drives

Filename editing with local and remote CDDB database and cdplayer.ini support and more features like ID3 tagging

Browse and edit local database

Certified Escient ® CDDB(TM) Compatible

Local CDDB support

Record and Loop Record functions for recording from LP, radio, etc.

Automatic rename of MP3 files according to their ID3 tag

Catalog extraction function

Multisession (CD-Extra) support

CD-Text support

CD write support for some drives

ID3 Tag editor with drag and drop possibility from track listing and database

Glitch removal after extraction

Small WAV editor with functions for delete, trim, normalize, pad, glitch removal, pop detection, interpolation of ranges, noise reduction, fade in/out, undo and more

Program is Cardware, so feel free to copy
Pagina di riferimento
ownload
1228 KB
Compatibile con Windows 95/98/Me/NT/XP/2000
Licenza Freeware
Autore Andre Wiethoff
Data dell'aggiornamento 22/05/2002
2 - Commento/i sul Forum
Voto:
Categoria:
Multimedia e Burning
La Community di SWZone.it
La community con le risposte che cerchi ! Partecipa é gratis !
Iscriviti al Forum
Newsletter
Vuoi ricevere tutti gli aggiornamenti di SWZone direttamente via mail ?
Iscriviti alla Newsletter
NOTIZIE CORRELATE