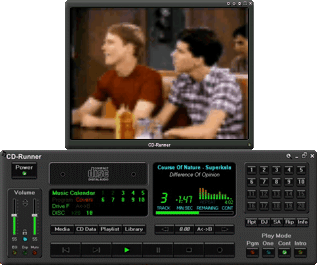 CD-Runner è un programma in grado di identificare e riprodurre automaticamente qualsiasi file multimediale.
Prevede inoltre il ripping audio, la possibilità di convertire i files Wav in MP3 e l'accesso al freedb.
Queste le novità della nuova release:
New Car Stereo-style small faceplate option
Updated DVD Player, improved compatibility with DVDs and 3rd-party DVD decoders
New Step forward/backward buttons added to the DVD & media file (MPG, AVI, etc.) players
New 3D buttons throughout, now all buttons animated (move and light up when clicked)
New Media Library Date/Time format "YYYY MM/DD" allows for ascending/descending sorting (click header)
Improved Home Stereo faceplate graphical displays
Time & track timing tweaked for audio CD playback (faster response & updates)
Updated context-sensitive help information (press F1 when in any screen to see help for that screen / operation)
Shareware e Winall
Download qui
5,75 Mb
Homepage
Commenta la News sul Forum
Voto:
Categoria:
Multimedia e Burning
La Community di SWZone.it
La community con le risposte che cerchi ! Partecipa é gratis !
Iscriviti al Forum
Newsletter
Vuoi ricevere tutti gli aggiornamenti di SWZone direttamente via mail ?
Iscriviti alla Newsletter
NOTIZIE CORRELATE