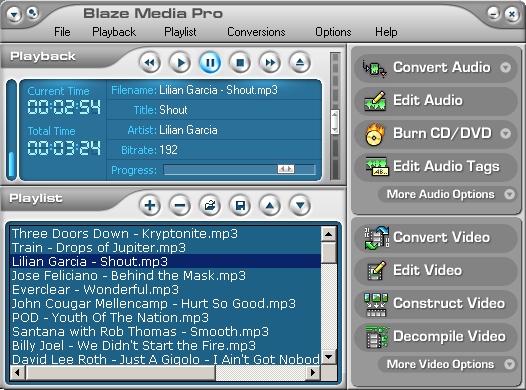 Il piu' completo e versatile player all-in-one.
Blaze Media Pro is an all-in-one multimedia software supporting all popular media formats; audio and video conversions; audio and video (including full screen) playlists; audio editing and recording (from any analog connection, such as cassette or record player; phone line; TV tuner audio; CD player; line-In; microphone; wave-out; and wave-out mix); video constructing and decompiling; and much more! Supported conversions include: CD to WAV, CD to MP3, CD to WMA, WAV to MP3, MP3 to WAV, WAV to WMA, WMA to WAV, WAV to CD, WAV Codec Conversions, and two-way conversions among MPEG, AVI, Multi-Page TIFF, and FLIC. Complete drag and drop support, fully skinnable interface, MP3 tag editing, CDDB capabilities, and versatile preferences.
Shareware e Winall
Download qui
12 Mb
Homepage
Commenta la News sul Forum
Voto:
Categoria:
Multimedia e Burning
La Community di SWZone.it
La community con le risposte che cerchi ! Partecipa é gratis !
Iscriviti al Forum
Newsletter
Vuoi ricevere tutti gli aggiornamenti di SWZone direttamente via mail ?
Iscriviti alla Newsletter
NOTIZIE CORRELATE