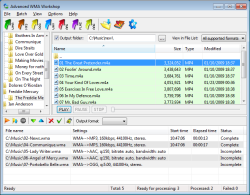 Advanced WMA Workshop è un programma per la conversione dei formati audio più diffusi in WMA (Windows Media Audio) e viceversa. Nello specifico consente le seguenti conversioni:
WMA to MP3
WMA to OGG Vorbis
WMA to WAV PCM
WMA to WMA (resampling)
MP3 to WMA 8
MP3 to WAV PCM
OGG Vorbis to WMA 8
OGG Vorbis to WAV PCM
WAV to WMA 8 (Windows Media Audio 8)
CD to WMA 8
Visita il
sito ufficiale
Download
Advanced WMA Workshop 1.55
Commenta la News sul Forum
Voto:
Categoria:
Windows
La Community di SWZone.it
La community con le risposte che cerchi ! Partecipa é gratis !
Iscriviti al Forum
Newsletter
Vuoi ricevere tutti gli aggiornamenti di SWZone direttamente via mail ?
Iscriviti alla Newsletter
NOTIZIE CORRELATE