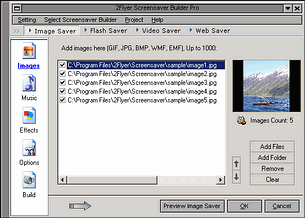 2Flyer Screensaver Builder è un programma che consente di creare screensaver personalizzati utilizzando fino a mille immagini a screensaver in formato Jpg, Gif, Bmp, Wmf o Emf, con l'aggiunta di audio in formato Mp3, Wav o Mid, animazioni flash e video.
E' possibile visualizzare le immagini con 240 effetti personalizzabili.
Caratteristiche del programma
Creates Windows95/98/ME/NT/2000/XP compatible screen savers.
Collects up to 1000 JPG/JPEG, GIF, BMP or WMF, EMF images and 2flyer will merge them into a screen saver.
Adds MP3, WMA, WAV or MID sound and music files to your screen savers to be played while the images are displayed.
isplays images from 240 transition effects that can be customized to create unlimited unique effects.
Creates a single .exe screen saver installation file - email and share the screen saver with your friends at any time.
Plays Flash files or online Flash resources in screensavers.
Plays movie clips in screensavers, support RealPlayer, MediaPlayer or QuickTime formats (RM, RA, RMJ, RAM, RMM; MPG, MPEG, MPE, MOV; ASX, ASF, WMV, AVI); You can even play online channels (Audio or WebTV).
Plays web pages in screensavers, support offline mode, display interval setting and other 10 features.
Trial 60 giorni Win All
Homepage
ownload 2.7mb
1 - Commento/i sul Forum
Voto:
Categoria:
Windows
La Community di SWZone.it
La community con le risposte che cerchi ! Partecipa é gratis !
Iscriviti al Forum
Newsletter
Vuoi ricevere tutti gli aggiornamenti di SWZone direttamente via mail ?
Iscriviti alla Newsletter
NOTIZIE CORRELATE