VisualZone Report Utility 5.0
Naviga SWZ:
Home Page
»
News
News del
26 Ottobre 01
Autore:
Antares
-
Oggi mi spacco in palestra !!! Ma dopo voglio vedere i risultati sul mio Fitbit Charge HR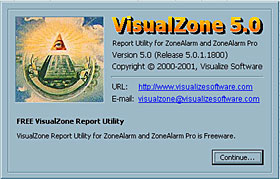 Visualize Software, dopo
VisualICE Report Utility
ha rilasciato VisualZone Report Utility, una interessante utility di intrusion analyser per Zone Alarm e Zone Alarm Pro.
Alcune caratteristiche del programma
Backtrace
Backtrace is a powerful information gathering tool.
The backtrace function starts by doing a reverse lookup on the intruder's IP address to find its DNS name.
Abuse notification
If you have had enough of a hacker, you probably want to report his behaviour to the proper authorities. VisualZone makes this easy.
Who Is
If you decide to report a hacker, you should do so to the Internet Service Provider of the hacker. To find out who that Internet Service Provider is, open the attack details form and choose "WhoIs".
Geographical Location Information
VisualZone has a really cool lookup feature that displays a map of the part of the world where the intruder is located.
HTTP and FTP
VisualZone can try to establish a direct HTTP or FTP connection to the IP address of the attacker.
SPAMCOP.NET Lookup
This service allows you to gather more information about the intruder. Spamcop can function as an alternative to the WhoIs feature of VisualZone.
Google Groups search
Want to know more about a hacker? Click on the link to the Google Groups search website and enter some information about the hacker, for instance his name. If at any time in the past, this hacker has ever posted a message in any newsgroup, you will know his E-mail address!
Freeware compatibile con Windows 98/ME/NT4/2000

Home

Info

Screenshot

ownload
Commenta la News sul Forum
Voto:
Categoria:
Sicurezza
La Community di SWZone.it
La community con le risposte che cerchi ! Partecipa é gratis !
Iscriviti al Forum
Newsletter
Vuoi ricevere tutti gli aggiornamenti di SWZone direttamente via mail ?
Iscriviti alla Newsletter
News Collegate