Nuova versione per questo ottimo programma gratuito.
FastStone Image Viewer è un veloce, stabile, user-friendly browser per immagini, che consente anche di convertirle e modificarle.
Ha una bella serie di caratteristiche che comprendono la visualizzazione di immagini, la gestione, il confronto, rimozione occhi rossi, e-mail, il ridimensionamento, il ritaglio e regolazioni del colore.

La sua innovativa,ma intuitiva, modalità a schermo pieno, consente di accedere rapidamente alle informazioni EXIF, all´anteprima del browser e alle funzionalità principali attraverso la barre degli strumenti nascosta che esce in modalità pop-up quando il mouse tocca i quattro bordi dello schermo.
Altre caratteristiche includono una lente d´ingrandimento di alta qualità e una presentazione musicale con più di 150 effetti di transizione, così come le transizioni lossless JPEG, gli effetti ombra, l´annotazione di immagini, supporto scanner, l´istogramma e molto altro ancora.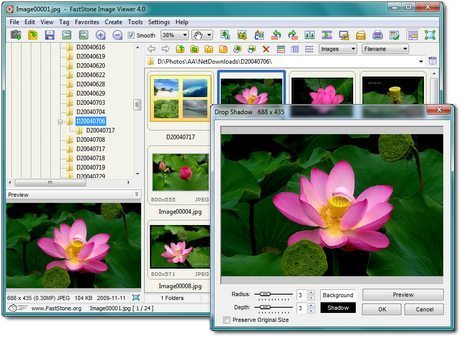 Supporta i formati grafici più diffusi (BMP, JPEG, JPEG 2000, animated GIF, PNG, PCX, TIFF, WMF, ICO and TGA) ed i formati RAW di cam digitali più popolari (CRW, CR2, NEF, PEF, RAF, MRW, ORF, SRF and DNG).

Caratteristiche
Image browser and viewer with a familiar Windows Explorer-like user interface

Support of many popular image formats: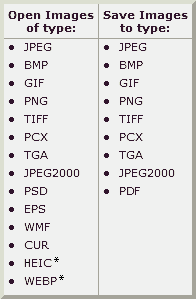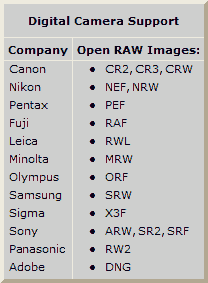 True Full Screen viewer with image zoom support and unique fly-out menu panels
Crystal-clear and customizable one-click image magnifier
Superior Red-Eye effect removal/reduction with completely natural looking end result
Image modification tools: Resize/resample, rotate/flip, crop, sharpen/blur, brightness/contrast, etc.
Eleven resampling algorithms to choose from when resizing images
Image color effects: gray scale, sepia, negative, Red/Green/Blue adjustment
Image special effects: watermark, annotation, drop shadow, framing, bump map, lens, morph, waves
Draw texts, lines, highlights, rectangles, ovals and callout objects on images
Multi-level Undo/Redo capability
One-touch best fit/actual size image display support
Image management, including tagging capability, with drag-and-drop and Copy To/Move To Folder support
Histogram display with color counter feature
Compare images side-by-side (up to 4 at a time) to easily cull those forgettable shots
Image EXIF metadata support (plus comment editing for JPEGs)
Configurable batch processing to convert/rename large or small collections of images
Slideshow creation with 150+ transition effects and music support (MP3, WMA, WAV...)
Create efficient image attachment(s) for emailing to family and friends
Print images with full page-layout control
Create fully configurable Contact Sheets - just like the pros (and save $$$ on ink)
Create memorable artistic image montages from your family photos for personalized desktop wallpapers (Wallpaper Anywhere)
Acquire images from a scanner
Versatile screen capture capability
Powerful Save As interface to compare image quality and control generated file size
Run favorite programs with one keystroke from within Image Viewer
Offer portable version of the program which can be run from a removable storage device
Configurable mouse wheel support
Support multiple program skins
Support dual-monitor configurations
2 - Commento/i sul Forum
Voto:
Categoria:
Windows
Licenza:
Freeware per uso personale
Dimensioni:
4.5 Mb
OS:
Windows
La Community di SWZone.it
La community con le risposte che cerchi ! Partecipa é gratis !
Iscriviti al Forum
Newsletter
Vuoi ricevere tutti gli aggiornamenti di SWZone direttamente via mail ?
Iscriviti alla Newsletter
NOTIZIE CORRELATE