Rilasciata un aggiornamento per questo programma di foto editing gratuito, alternativo al Paint standard incluso nei sistemi operativi Microsoft.

Offre molti effetti speciali e la possibilità di interagire con dei plugin aggiuntivi.

Paint.NET è un progetto sviluppato dagli studenti della Washington State University.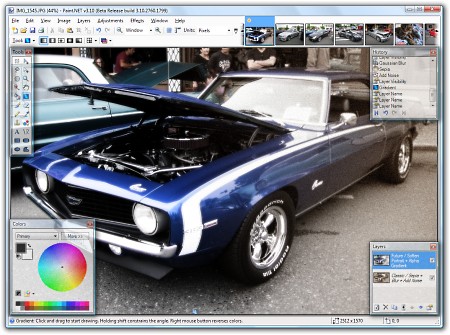 CHANGELOG:
New: For Windows 7, added taskbar progress reporting for long running operations (effects, adjustments, Image->Resize, save, install)

Made some corrections to the French translation

Running setup with /auto will no longer launch Paint.NET when it's done

Fixed an issue where Paste into New Image would refuse an image on the clipboard, even if regular Paste would take it

Fixed a race condition with Edit->Paste and Image->Resize whereby it would take up 100% CPU and take between 1 minute to 1 hour to finish

Fixed an issues with Copy/Paste where it would leave an extra line of transparent pixels on the left, top, right, and/or bottom edges

Fixed lag with the paintbrush tool that was being seen on some systems

Fixed some issues with the paintbrush and eraser tool being misaligned when zoomed in

Fixed a crash that would happen at (seemingly) random times, such as after drawing with the paintbrush tool, on some systems

Fixed a minor and obscure rendering glitch with the Move Selected Pixels tool

Fixed an issue with glass over Remote Desktop or Windows 7 Virtual PC

Fixed a minor glitch whereby the "Unsaved Changes" confirmation dialog could never finish rendering the image thumbnail if one of the Move tools was active

Richiede l´installazione di .NETFramework3.5 SP1

Localizzato in italiano
Commenta la News sul Forum
Voto:
Categoria:
Digital Imaging
Licenza:
OpenSource
Dimensioni:
4,87 MB
OS:
Windows
La Community di SWZone.it
La community con le risposte che cerchi ! Partecipa é gratis !
Iscriviti al Forum
Newsletter
Vuoi ricevere tutti gli aggiornamenti di SWZone direttamente via mail ?
Iscriviti alla Newsletter
News Collegate