Windows XP Updates Downloader
Naviga SWZ:
Home Page
»
News
News del
07 Marzo 06
Autore:
RostoR
-
Sul Microsoft Software Forum Network ho trovato questo minuscolo programmino che permette di scaricare tutte le patch critiche direttamente dal sito Microsoft. To Do - Provide link to original KB article. - Verify bug with path length. - Verify error with Windows Installer 3.1 v2 update. - Add multi-lingual updates download. - Add multi-lingual interface. - Verify for issues related to loss or non-existence of connectivity. - Pre-select only updates not already downloaded. - Add download count (ie: "Downloading x of x") in download status description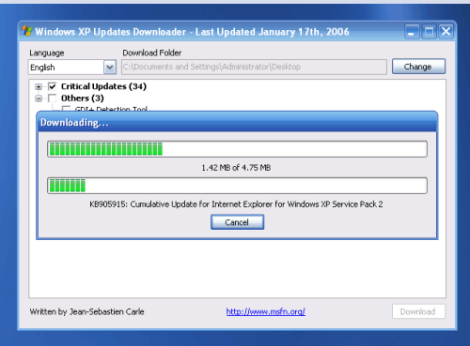 16 Gennaio 2006Necessaria l'installazione del:
Net Framework 2
27 - Commento/i sul Forum
Voto:
Categoria:
Windows
Licenza:
Freeware
Dimensioni:
17.9 Kb
La Community di SWZone.it
La community con le risposte che cerchi ! Partecipa é gratis !
Iscriviti al Forum
Newsletter
Vuoi ricevere tutti gli aggiornamenti di SWZone direttamente via mail ?
Iscriviti alla Newsletter
News Collegate