Bootable CD Image di Windows XP integrato con SP2 aggiornamento v. 1.0.30
Naviga SWZ:
Home Page
»
News
News del
02 Ottobre 04
Autore:
RostoR
-
Aggiornamento alla versione 1.0.30 di questo programma con il quale possiamo integrare i service pack di Windows XP e del quale potete vedere la metodica a
Questa localizzazione
Le altre due metodologie presentate da Swzone per ottenere l'integrazione:
Marco
Giancarlo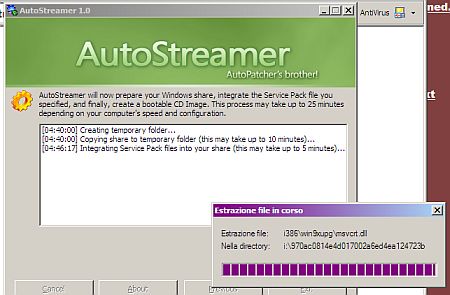 28 Settembre 2004Fixes from last version: Changes from 1.0.29: *Allow manual customization (pauses procedure before ISO creation) *Allow no Service Pack selection (just creates the ISO) *Since only one bootloader is needed, the rest have been dumped... *The old listbox was dumped since... *...the new checklist was prefered... *The progressbar will also be kept... *...but with a true XP-style... *God-mode (no service pack build detection) [use /godmode] *AutoStreamer folder should handle special characters now *if a subfolder named UPDATES exists in I386 folder AutoStreamer will not continue... *...since Slipstreaming doesnt work on those... *If CD is selected and SP is skiped while Manual Customizing is off, it will directly create the ISO from the CD (no need to copy files first!) *If CD is selected and SP is skiped while Manual Customizing is on, it will copy files from CD, pause so you can customize the share manually and then hit "Make ISO" to resume)
8 - Commento/i sul Forum
Voto:
Categoria:
Windows
Licenza:
Freeware
Dimensioni:
Kb 435
OS:
Windows XP
La Community di SWZone.it
La community con le risposte che cerchi ! Partecipa é gratis !
Iscriviti al Forum
Newsletter
Vuoi ricevere tutti gli aggiornamenti di SWZone direttamente via mail ?
Iscriviti alla Newsletter
News Collegate