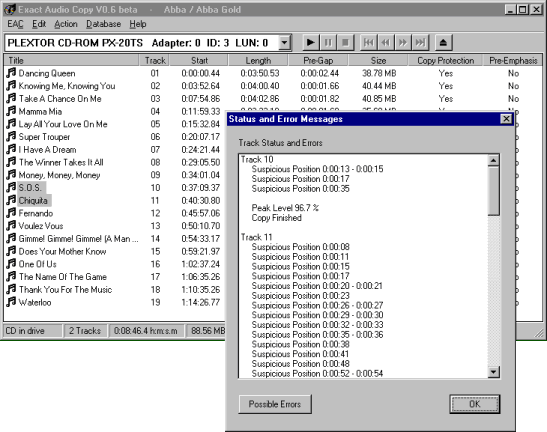 Exact Audio Copy è ritenuto da alcuni addiruttura il miglior programma per effettuare l'estrazione digitale delle tracce musicali da un CD audio.
Questo software, che lavora tramite l'interfaccia dei driver ASPI, presenta due modalità di estrazione digitale, il "FAST MODE" ed il "BURST MODE", il primo veloce e simile agli altri grabber, il secondo senza alcuna sincronizzazione.
Il programma prevede inoltre la possibilità di comprimere le tracce nei formati più comuni, avvalendosi degli encoders più famosi quali L.A.M.E., BLADE, etc., al suo interno EAC presenta inoltre anche un editor audio, oltre a moltissime altre funzioni che potrete leggere alla pagina dell'autore.
Changes in Current Version:


GUI restructured

Profile usage is now easier and can be selected by a drop down box on the main window

Updated freedb usage to proto 5

Configuration Wizard to setup basic drive, encoder and freedb configuration for beginner users

Option setting for leaving out all advanced features, making it easier for beginners

Secondary C2 extraction mode

Manual detection of TOC, usefull if a CD is defective and displays wrong track positions or data tracks instead of audio, EAC will try to detect the CD structure by analysis

Uncompressed and compressed extraction is now divided, so compression options will missing "Internal WAV routines"

More placeholders for external command line encoders in "User Defined Encoder" format

Correction of MP+ decoding bug with command line decoder

New Monkeys Audio (MAC) DLL support

Compression queue is saved to harddisk and continued on next EAC session

Improving Pop Detection to 4 band analysis

Display of actual extraction position in real music time (for error checking)

Small corrections to ID3V2 routines

Correction of support for some writers

Many smaller additions

Bug fixes
Pagina di riferimento
ownload
1227 KB
Compatibile con Windows 95/98/Me/NT/XP/2000
Licenza Freeware, l'autore accetta volentieri una cartolina con un francobollo.
Autore Andre Wiethoff
Data dell'aggiornamento 21/01/02
Commenta la News sul Forum
Voto:
Categoria:
Windows
La Community di SWZone.it
La community con le risposte che cerchi ! Partecipa é gratis !
Iscriviti al Forum
Newsletter
Vuoi ricevere tutti gli aggiornamenti di SWZone direttamente via mail ?
Iscriviti alla Newsletter
NOTIZIE CORRELATE